Het SalesStep online assessment geeft een gedetailleerd en betrouwbaar overzicht van de ontwikkelprioriteiten en talenten van salesmensen. SalesStep meet en rapporteert 23 relevante Sales competenties van zowel managers als sales mensen om hun sales performance razendsnel te verbeteren.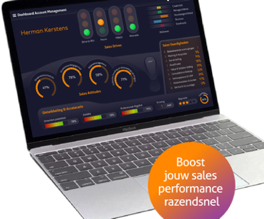 Our customers in more than 24 countries know that this is very valuable.
However, what does that mean at team level? What are the priorities for the various teams, such as internal and external sales, the account managers and the Sales Development Representatives.
This is where the SalesStep TeamViewer proves its value. TeamViewer allows you to report and compare the data of individuals at team level.
De inzichten uit SalesStep en TeamViewer "vertalen" vaak het onderbuikgevoel, en zijn verder zeer waardevol als objectieve en externe visie daarop. TeamViewer geeft o.a. de volgende inzichten:
Onboarding priorities & development potential of both the individual and the team
Sales Performance: De Sales performance data van het individu en het team worden gecorreleerd met data uit de SalesStep en TeamViewer. Hierdoor worden de performance verschillen verklaard vanuit het oogpunt van sales competenties.
Sales Maturity: How to objectively decide which account manager is junior or senior. By means of a validation study on the SalesStep assessments, this can be determined objectively.
Team samenstelling & Buddying: Vaak is kennis en ervaring van je naaste collega zeer behulpzaam bij het verder ontwikkelen van jezelf en het team. Welke manager kan het beste welk team leiden? Voor deze inzichten heb je geen dure trainers nodig.
Talent Management & Succession Planning: Who is the best candidate to grow or become a Manager?
Candidate selection & Job Match: Recruiting good sales colleagues turns out to be difficult. A lot of "wrong hires" are made. Often this has to do with the fact that sales candidates are excellent sellers, but we do not know what their real competencies are.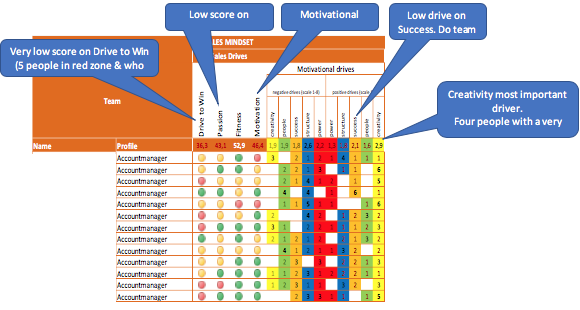 Attached example is an analysis to determine who is included in the Talent Pool of a large ICT company. With TeamViewer it turned out that there were too few candidates to meet the requirements, so the risk of lowering quality criteria to fill the pool in March was avoided.
Do you want to know what SalesStep and TeamViewer can do for your team? Get in touch with us! contact!